We are transforming our wine studio into a pilates studio for the evening! Come experience a 60 minute, all-level Pilates mat class, led by Coutney Lindsay of Washington Ave Pilates, followed by a wine class led by Sommelier and Winemaker, Ryan Levy. We are limiting the number of participants so that it will be an intimate experience. Light refreshments will be served at the wine tasting. This is a unique opportunity to gain exclusive access to our award-winning wines.
Following the pilates class, Ryan Levy will lead you through several wine selections, beginning with light and playful options, and ending with wines that are more serious and full-bodied. He will discuss the wines, winemaking process, and the unique approach Nice Winery takes to winemaking.
About the Instructor: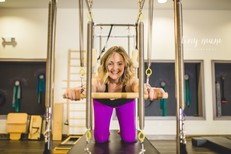 Courtney Linsday practiced Pilates for over 15 years as she "chased her dream" of becoming a professional dancer. She entered the corporate world putting her Bachelor of Arts in Public Relations and Advertising to work; continuing to coach and teach on the side. Courtney went through the Washington Ave Pilates (WAP) Teacher Training in 2013 and has stayed with WAP since. She became a CE Program Teacher for the WAP Teacher Training Program in 2016. Courtney has studied with Jennifer Kries, Hilary Opheim and other Classical Pilates practitioners. She continues to delve deeper into Joseph Pilates' work to bring her clients the balance, strength and healing they seek to garner the control necessary to keep their bodies as young as their spirit.
What to bring:
Please bring your own mat, towel, and water bottle. We will not have mats available for loan. The classes will be held in our winery, so it will be cooler than a yoga studio. Please wear pants rather than shorts. If you get cold easily, we recommend bringing a sweater to wear during the wine tasting.
No Pilates experience necessary - all levels from beginner to advanced are welcome!
Price: $45 per person. No member discount.