Bingo Night #2 with Nice Winery
Join us at 7pm on Facebook Live
Wednesday, September 16
to play a couple of games of Bingo
with your host and Bingo-caller
Ryan Levy!
We've put together a wine and Charcuterie Kit made by Chef Randy for the most unique culinary experience. If your joined us last time, we've implemented your feedback and updated the culinary offerings to this amazing spread!
Come join in on the fun!
Charcuterie kits are for pick-up ONLY.
Pickup times are between 10:00 am and 5:00 pm
Tuesday, September 15 or Wednesday, September 16.
We will email you before the event to schedule your pickup.
*** Featured Packages! ***
Each of the packages below have been carefully assembled for a fun and delicious culinary experience. Scroll down to the bottom of the page to review the details about the Charcuterie Kit.
Bingo Night with Charcuterie Kit and Gratitude!
Enjoy a date night for two or a fun evening with friends with our featured package!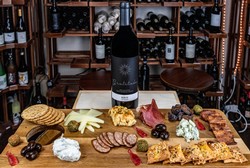 Our feature package includes:
1 bottle of 2018 Nice Winery Gratitude
1 Charcuterie Kit (serves 2)
4 Bingo cards (Enough for 2 people to play 2 games)
Retail: $86.25 | Club Member Price: $69.00

Bingo Night with Charcuterie Kit, Nice Winery Gratitude, and Nice Rose of Malbec!
Double the fun -- Enjoy Chef Randy's Charcuterie selections and two bottles of wine. This package includes: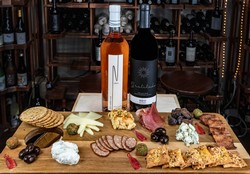 1 bottle of 2018 Nice Winery Gratitude
1 bottle of 2020 Nice Rose of Malbec
1 Charcuterie Kit (serves 2)
4 Bingo cards (Enough for 2 people to play 2 games)
Retail: $111.25 | Club Member Price: $89.00

Bingo Night Choose Your Own Adventure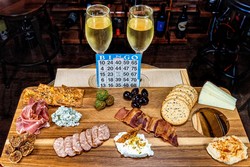 Want to select your own wines? Great! Purchase Chef Randy's Charcuterie Kit, get your bingo cards, and build your cart with your favorite selection of Nice Wines. This package includes:

1 Charcuterie Kit (serves 2)
4 Bingo cards (Enough for 2 people to play 2 games)
Retail: $68.75 | Club Member Price: $55.00

---
Charcuterie Kit Details
Each package includes the ingredients to make your own beautiful Charcuterie Board! We've supplied all the tasty bites, you just need to supply a cutting board, plate, or maybe that fancy platter you received as a wedding gift that you've never quite found a use for!
Meats
Chef Randy's own house-made and smoked Pastrami Bacon
Brined in blend of herbs, spices, sugar and salt for between 5-6 days, covered in a blend of coriander, black pepper, garlic and mustard seed and then smoked for 6 hours, sliced and pan seared until golden brown.
Serrano Ham
Absolutely delicious naturally air-cured Spanish ham. No antibiotics, hormones or nitrates added. Thinly sliced.
Andouille Cajun-Style Sausage
Made from heritage-breed pork humanely raised with no antibiotics or hormones. Made with all-natural ingredients and smoked over real hardwood. Gluten Free.
Cheeses
Italian-style Goat Cheese
Creamy goat cheese rolled in a blend of salt, garlic, onion, parsley, thyme, cayenne pepper and tomato powder.
Manchego
This firm, buttery sheep's milk cheese from Spain is aged for 9 months.
Bleu Cheese
This dense and creamy cheese is aged for a minimum of one year, made in Wisconsin and then sent to California for additional aging.
Accompaniments
Roasted Garlic Hummus
This smooth and creamy spread is made with chickpeas, tahini, roasted garlic, lemon juice, olive oil, ras el hanout, salt and pepper. Served with toasted pine nuts, garlic oil and smoked paprika.
Chef Randy's House-made Herbed Ricotta Spread
This fresh ricotta spread has fresh thyme and mint, coarse ground Szechuan peppercorns, lemon zest and honey.
Chocolate Almonds
Roasted almonds, covered in dark chocolate.
Dried Figs
Sun dried black mission figs are small, sweet, figs with a complex smoky flavor
In-House White Cheddar Everything Crackers
House-made aged white cheddar crackers, topped with poppy seeds, sesame seeds, onion, garlic and parmesan cheese.
PLEASE NOTE: We are sorry but we cannot accommodate any food substitutiuons at this time. We CAN accommodate requests for gluten-free boards (just let us know in the order notes and we will provide gluten-free crackers and no bread).