August 29, 2014 | Ryan Levy
Ask the Winemaker: What are these crystals in my glass of white wine?
Ask The Winemaker with Ryan Levy & Ian Eastveld of Nice Winery and nicewines.com
Question: What are these white, crystal looking things in my bottle or glass of white wine?
Answer: They are tartrates. Tartaric acid is one of the three main acids found in wine grapes (along with malic acid and citric acid) that provides the tartness in grapes and wine. Tartaric acid's solubility is temperature-dependent. So, when wine is chilled down, some of the tartaric acid drops out of solution as fine white powder or crystals and does not dissolve again. In white wines, which are often refrigerated for days or weeks, and in which consumers aren't expecting to see any sediment, the tartrate crystals can be alarming. Some wine lovers who've seen these crystals wonder if they are shards of glass. These crystals - sometimes romantically called, "wine diamonds" - are not shards of glass, and are harmless. The crystals are potassium bitartrate, known more commonly as "cream of tartar" and which can likely be found in your kitchen cupboard. Are you a baker? Like to make pastries or cakes? Nearly all cream of tartar for use in baking is harvested from wineries.

Mass-produced wines are routinely stabilized in various, and sometime harmful, ways. A large commercial winery typically uses sterile filtration (to eliminate any chance of refermentation in bottle), heat stabilization (for proteins that can cause a haze in a wine if it's exposed to high temperatures) and cold stabilization (for tartrate crystals). The cold stabilization process involves chilling the wine down around freezing for several days shortly before bottling. This causes tartaric acid to drop out of solution in the tank, so that no more is likely to precipitate out in a customer's bottle or glass. Of course, like most interventions, cold stabilization has other less desirable consequences. A lower concentration of tartaric acid in the resulting wine changes the wine's flavors and can impact its long-term ageability.

How a wine is stored impacts whether a customer even notices tartrates in bottle. If a cork-finished wine is stored upside-down, tartrate crystals typically adhere to the cork and are removed with the cork when the wine is opened. Tartrates won't adhere to screwcaps, so no matter how wines sealed with a Stelvin or screwcap closure are stored, any tartrates will be visible in the bottle or in the last glass (like in the picture below).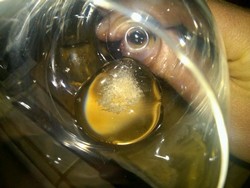 So, feel lucky when you see the tiny "wine diamonds" in your bottle or glass. It means the wine was made with love and care by a family who values as little intervention in the wine as possible. It means you have in your posession a truly handmade, boutique and special wine. As for those "wine diamonds" . . they are perfectly safe to eat or drink, but we do not advise trying to use them as earrings or engagement rings. Learn more about small batch, boutique winemaking and find these rare wines at www.nicewines.com. Ryan Levy & Ian Eastveld, Winemakers, Nice Winery.
Comments