Blog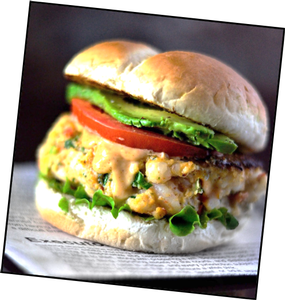 Ingredients for Shrimp Burgers:
1 Lb. peeled and deveined medium shrimp
1/3 c. gluten-free panko breadcrumbs
1 Tbsp. lemon juice
1⁄2 tsp. kosher salt
1⁄4 tsp. garlic powder
1⁄4 tsp. freshly ground black pepper
2 scallions, white and green parts, thinly sliced
1 large egg, lightly beaten
1⁄4 C. canola oil
4 brioche buns, halved and lightly toasted Chili-Lime Aioli
Avocado slices, for topping
Lettuce leaves, for topping
Tomato slices, for topping
Directions:
Coarsely chop half of the shrimp. Put the remaining shrimp in a food processor and pulse until smooth. Combine both shrimp in a large bowl with the breadcrumbs, lemon juice, salt, garlic powder, pepper, scallions and egg. Mix well. Refrigerate for 10 minutes, and then form into 4 patties. Refrigerate 10 more minutes.
Heat the oil in a large cast-iron skillet over medium-high heat. Cook the burgers, about 3 minutes per side.
To serve, spread the buns with the chili-lime aioli and place the burgers on the buns. Top the burgers with the avocado slices, lettuce leaves, and tomato slices. Enjoy!
Pair with a delicious crisp white or Rosé wine, like our Nice Sauvignon Blanc or Nice Rosé!
Recipe: Katie Lee of Food Network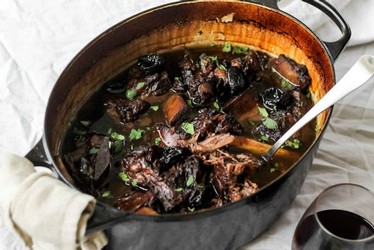 INGREDIENTS
6 bone-in short ribs, ¾ to 1 pound each, patted dry
salt and freshly ground black pepper
¼ cup olive oil
2 carrots, peeled and finely diced
1 onion, finely diced
1 stalk celery, finely diced
3 tablespoons finely chopped fresh basil
2 tablespoons finely chopped fresh thyme
4 garlic cloves, minced
2 cups chicken stock
2 cups of Nice Malbec
1 package (9 ounces) moist prunes, all but 6 cut into quarters
1 cup canned crushed tomatoes
3 tablespoons tomato paste
2 tablespoons finely chopped parsley, garnish
DIRECTIONS
Preheat oven to 325 degrees F. Season the short ribs on all sides with salt and pepper. In a Dutch oven large enough to hold all 6 short ribs, heat 2 tablespoons of the olive oil over medium-high heat. Using tongs, add the short ribs in two batches, and sear on all sides until well browned. Transfer short ribs to a large plate.
Reduce the heat to medium and add the rest of the olive oil to the Dutch oven. Add the carrots, onion, celery, basil and thyme and sauté, scraping up any brown bits or fond that may be on the bottom of the Dutch oven. Stir occasionally for 6 to 8 minutes or until the vegetables are tender but not browned. Add the garlic and cook for another minute.
Stir in the stock, Malbec wine, crushed tomatoes, tomato paste and all but the 6 whole prunes. Bring to a simmer. Nestle the short ribs into the sauce in one layer, with the bones facing the sides, not on top and not under the short-rib. Top each short rib with a whole prune; cover the Dutch oven with the lid or tightly with a sheet of aluminum foil. Place in the oven and cook the short ribs until the meat is very tender and beginning to fall off the bones, about 4 hours.
Using tongs, carefully transfer the short ribs to a platter and tent with foil. Be sure to grab the meat, the bone and the prune on top together. Strain the sauce through a sieve or china cap, pressing gently with the back of a spoon or ladle, into a saucepan. Simmer the sauce over medium-high heat for about 20 minutes, or until thickened and reduced by half. Taste and adjust seasoning.
Spoon the reduced pan juices over the lamb. Garnish with parsley and serve immediately.
Advance Preparation: Can be prepared up to 2 days ahead, covered and refrigerated. Keep sauce separate and reheat gently before pouring over reheated short-ribs.

Chili Lime Aioli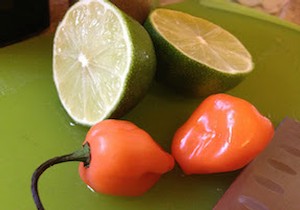 1 ½ cup mayonnaise
3 cloves of garlic, minced
Zest of 1 lime
2 tablespoons fresh lime juice
2 habanero peppers, minced
½ teaspoon salt
Combine all of the ingredients. Store in an airtight container.
It is best to prepare this the day before to allow flavors to mingle and mellow out.