Our club members allow us to do what we love – make great wine! We created a series of wines based on great virtues; characteristics valued for promoting collective and individual greatness. The concept mirrors our own values as a family-owned winery. It is our hope that the wines in our virtues series: Loyalty, Grace, Courage, Integrity, Clarity, and our newest, Gratitude, spark conversation over some of humanity's best qualities.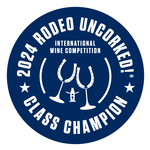 This vintage of Gratitude is the 2024 Class Champion, Double Gold Medal at Rodeo Uncorked! Houston Livestock Show & Rodeo International Wine Competition.
Gratitude is an homage to the great wines of the Right Bank of Bordeaux, France. Known for their richness and complexity, the Right Bank is home to some of the most sought-after wines in the world. Like those wines, the predominant grape in Gratitude is luscious, ripe Merlot. The grapes were harvested from sustainably farmed, family-owned vineyards in Paso Robles. The hand harvested grapes were fermented in small batches using traditional punch downs by hand for maximum flavor intensity. This decadent wine was aged for 21 months in mostly new French oak barrels.
Prime flavor expression will be achieved by decanting this powerful wine for 30 minutes before serving. Be sure to buy a few more bottles to cellar until 2030! We only made 336 cases of this fantastic vintage. This a versatile food wine that pairs well with meats ranging from grilled chicken or lamb burgers to our personal favorite, Beef Bourguignon.