2020
Reserve Class Champion, Double Gold Medal - 2024 Rodeo Uncorked! Houston Livestock Show & Rodeo International Wine Competition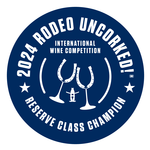 Our 2021 Nice Chenin Blanc is the 2024 Reserve Class Champion, Gold Medal winning wine at the Rodeo Uncorked! Houston Livestock Show & Rodeo International Wine Competition!
Our Nice Chenin Blanc grapes are grown in a small family vineyard in the Clarksburg Viticultural Area, which is famous for its Chenin Blanc cultivation. Located along the Sacramento River, the Clarksburg AVA is defined by the maritime influence of the Sacramento Delta, and has been compared to some of the best wine grape regions in California (Napa, Sonoma, Paso Robles) in terms of degree days and day to evening temperatures. Cool evenings and warm days with limited summer fog allow Clarksburg to grow premium wine grapes. Less rainfall during critical growing stages ensures consistent quality, and less spring rainfall depletes groundwater faster, stressing vines sooner to create more flavor in the resulting wines. We fermented these grapes to dryness in stainless steel, and after fermentation, we blended in a tiny amount of Viognier grapes from nearby Lodi to accentuate the aromatics and mouthfeel of the wine. The finished wine is 50% Chenin Blanc and 50% Viognier.
Chenin Blanc's crisp acidity and inherently sweet flavor helps it pair well with foods that have a sweet and sour element. Southeast Asian cuisine or pork chops with apples paired with Chenin Blanc will impress your dinner guests. Bon Appetit!
Tasting Notes: Golden Nectarine. Honeysuckle. White Flowers.
Wine Profile
Awards
Reserve Class Champion, Double Gold Medal - 2024 Rodeo Uncorked! Houston Livestock Show & Rodeo International Wine Competition
Product Reviews