Join the Club!
We offer 5 different wine clubs geared toward wine education and exploration. Our Sommeliers, Winemakers, and Nice Winery Team select wines that typically come from small, family owned wineries; friends we've made on our own winemaking journey. You'll receive Nice Wines periodically as well! We invite you to experience wines that we enjoy and learn about regions and food pairings along the way.
We look forward to having you as a member!
Click to learn more about our Nice Wine Clubs!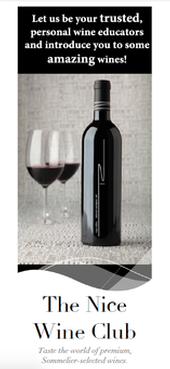 Want to give a membership as a gift? Enter the recipient in the Shipping Information at checkout and be sure to include a gift message. Any questions, give us a call!