Private Events
Interested in hosting a unique and memorable experience for your friends, family, or co-workers? We would love to welcome you at Nice Winery!
Please view our Private Guided Tasting details below. Due to high demand and our Winemakers' travel schedule, our calendar books up quickly. If you are interested in booking a private event at Nice Winery, please reach out with as much advance notice as possible! Email michelle@nicewines.com or call us at 713-744-7444.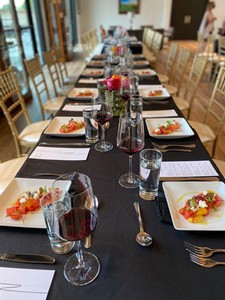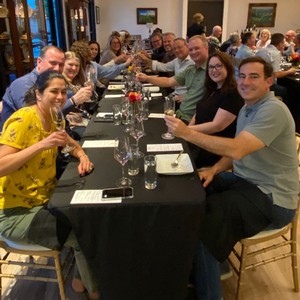 Private Guided Wine Tastings
Nice Winery's Sommeliers and Winemakers will guide you and your guests through a fun and educational tasting of six of our highly rated, rare wines. Wines will be served with an assortment of cheese, crackers, and cured meats. All wines featured will be available for purchase at the winery. Minimum of 10 attendees. Tastings can be booked by appointment Monday - Saturday by calling us at 713-744-7444.
Tasting duration: 1 ½ - 2 hours

Requirements: Minimum total of $500 OR a minimum of 10 attendees Monday- Thursday. Weekend minimum is $1000. To secure the date, private tastings require a $500 non-refundable deposit, which can be applied towards the total cost of the event.
*Additional food/light bite options are available for a supplementary cost + service fee.
Event Cancellation Policy:
Regularly Scheduled Tastings (During Normal Business Hours): 48-Hour notice is required for tasting ticket refunds. If less than 48-hours notice is given, we will provide an in-store credit on a Nice Wines gift card for 75% of the ticket price. Gift cards are valid for wine purchases and future events only.

Private Events, Private Tastings, After-Hours Tastings, Classes, and Wine Dinners: 48-Hour notice is required for ticket refunds. If less than 48-hours notice is given, we cannot provide a refund due to the limited number of seats and expense of the event.
We offer tastings of four - six of our award-winning wines, led by one of our knowlegeable winery team members. Tastings are $35 per person for four wines and $55 per person for a tasting of six of our premium wines. Tastings will be served with an assortment of cheese, crackers, and cured meats. These tastings require a minimum of 2 attendees and can be booked by appointment Tuesday - Saturday by calling us at 713-744-7444.
Tasting duration: 1 hour