Nice Winery Upcoming Events
Don't forget - Nice Wine Club members receive 20% off event tickets!

We would love to welcome you at one one of our upcoming events!

If you are interested in a private event, please visit the link to the left of this page.
Note: Tickets are required and events often sell out. To reserve tickets, purchase them below or call us at the winery at (713) 744-7444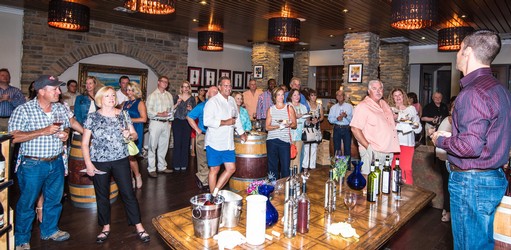 November 2021
2021 Nice Winery Rhone River Cruise
Thu, Nov 4, 2021 - Thu, Nov 11, 2021
Venue:
France - Rhone River
Contact:
Ralph Piazzo 281-343-1946,
ralph@piazzotravel.com


Join our winemakers, Ryan Levy and Ian Eastveld, for a 7-night cruise along the Rhone River from Lyon to Les Baux. The cruise, hosted by AmaWaterways aboard the AmaKristina, will begin in Lyon, with stops in Vienne, Tournon, Avignon, before ending in Aries.
From romantic cities to foodie havens and artistic epicenters, this itinerary enlivens all your senses. Spend two nights in Paris before going to Lyon, France's culinary capital. Savor the beauty of legendary vineyards and imbibe in local vintages like Beaujolais and Côtes du Rhône. You can even become an expert in all things culinary: go in search of the highly prized "Black Diamond" truffles; learn how to pair chocolate with wine; and discover how olives turn into the Mediterranean's nectar, olive oil. Trace the steps of famous artists in Arles and Carriéres de Lumiéres, and then let Barcelona cast its magical spell on you.
Included Features:
Special tours & tastings at local wineries and private cellars
Learn about winemaking in renowned vineyards
Onboard wine pairings with award-winning cuisine
Wine tastings and discussions onboard led by wine hosts
For more information and pricing, contact Ralph Piazzo: (281)-343-1946 or ralph@piazzotravel.com.