We are ecstatic to present a brand new Nice creation - our very first Napa Valley White Blend. This is a Bordeaux-style white blend made in Napa Valley, elegantly combining the best qualities of Bordeaux white grapes with the unique terroir of Napa Valley, with a very Nice twist.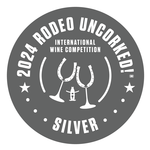 This brand new wine won a Silver Medal at the 2024 Rodeo Uncorked! International Wine Competition.
While Bordeaux is renowned for its red wines, the region also produces some exceptional white blends, typically combining their two traditional white grape varietals - Sauvignon Blanc and Semillon. It's no wonder that the French have been combining these varieties for generations, as the two are a match made in heaven. Sauvignon Blanc provides a bright, zesty acidity and a range of flavors from green apple and citrus to tropical fruits like pineapple and passion fruit. Semillon adds body and a luscious texture to the blend. It is known for its flavors of honeysuckle, pear, and apricot, enhancing the complexity and mouthfeel of the wine. To add our Nice touch, we also added Chenin Blanc to the mix, for its peachy, quince, honeydew melon deliciousness.
Our blend is 48% Sauvignon Blanc, 35% Semillon, and 17% Chenin Blanc. To add to the already opulent nature of this wine, this wine is sur lie aged in French oak barrels for 11 months. This process contributes additional nuance, enhancing the wine's rounded, luxurious texture and adding subtle flavors of brioche, baking spices, and caramel.
We suggest pairing this wine with a lemon arugula salad, yellowtail sushi, creamy pasta sauce, or charcuterie featuring chevre, burrata, and an herbed feta.