Our operations director, Donna, had the idea to create a series of wines based on great virtues; characteristics valued for promoting collective and individual greatness. The concept mirrors our own values as a family-owned winery. It is our hope that the wines in our virtues series, Loyalty, Grace, Integrity, Clarity, Gratitude, Courage, Resilience, and Faith spark a conversation over a glass of honest, clean-crafted wine about how we can each give back, respect one another, and take the high road.
Our Faith Rose is the newest addition to our Virtues Series. For us, winemaking is an act of faith. It is our loyal club members' faith in our mission of creating experiences with outstanding wine, food, and education that has enabled us to persevere. Most of all, we have learned to have faith in the healing power of community and friends.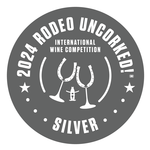 Our Faith Rose won a SIlver Medal at the 2024 Rodeo Uncorked! International Wine Competition.
Only 168 cases of our refreshing rose were produced. A beautifully blended dry rose, this is a combination of Grenache, Syrah, and Pinot Noir grapes. This wine is labeled simply California because our grapes are grown in two appellations; the Sierra Foothills and the Russian River Valley. On the nose, the wine is reminiscent of fresh rainfall hitting the ground- an aroma that has been given its own special word: Petrichor. It is that pleasant smell that accompanies the first rain after a long period of warm, dry weather.
On the palate, flavors of tart raspberry, strawberry, and citrus abound. It has a long finish that makes you want to take another sip.
Rose is our favorite wine to pair with food. We call it the universal pairer- the options for delicious food combinations are endless. Rosé is delicious with all kinds of pork, grilled or roasted poultry, fresh seafood and shellfish, or enjoyed by itself on a hot summer day! Enjoy Rosé chilled just like you would a white wine. Drink now, Rosé wines are best enjoyed fresh and do not benefit from aging.