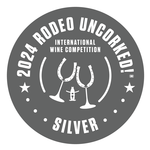 This brand new wine won a Silver Medal at the 2024 Rodeo Uncorked! International Wine Competition.
This wine was crafted from fruit sourced from a sustainably farmed, family-owned estate within Sonoma Valley. Sonoma Valley is a sub-region within Sonoma County, just southeast of the Russian River Valley. After 18 months in French Oak barrels, this 100% Zinfandel exhibits spectacular aromas of Christmas spice, cardamom, cinnamon, and cedar. Vibrant blackberry notes are layered with plums, violets, and roses.

This stunning wine does not require decanting and will age gracefully for the next five years. Bring out your inner child and pair this luscious wine with a Gruyere grilled cheese or baby back ribs.
About The Periwinkle Foundation:
The Periwinkle Foundation develops and provides programs that positively change the lives of children, young adults and families who are challenged by cancer and other life threatening illnesses. Periwinkle's mission is realized through a continuum of camps, arts, and survivor programs which accompany a child and their family from diagnosis through treatment, and into remission.
Over the last several years, they have hosted multiple successful Iron Sommelier competitions, uncovering an enthusiastic passion for wine among its supporters. Building on this success, Periwinkle teamed up with us to create a wine that would honor the mission of Periwinkle and impress the sophisticated pallets of Periwinkle's most ardent supporters. Learn more at https://periwinklefoundation.org/
Our beautiful label artwork entitled "Survivor Monkey" was created by Payton, age 10. Courtesy of Periwinkle's Making A Mark® Program.