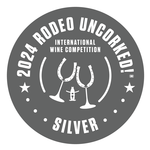 This fresh and crisp wine won a Silver Medal at the 2024 Rodeo Uncorked! International Wine Competition.
We have worked with Manuel Otero Ramos and his daughters Fernanda and Roxana for 8 years now to produce our Sauvignon Blanc and Testamento Cabernet Sauvignon. Both wines have become favorites of many of our club members! Much of that deliciousness is the result of the hands-on approach that Roxana and Fernanda take to farming the grapes in their vineyard.
Torrontés has a reputation for the "bait and switch." The wine smells sweet, but it is usually made in a very dry style. Don't be fooled by its candied and floral aromas! It is similar to other aromatic white wines including Riesling and Muscat Blanc (Moscato), but again, completely dry.
Putting our nose in the glass, we are able to discern aromas reminiscent of chamomile, jasmine flower, and lemon blossom. It has a sweet perfume aroma that we can't get enough of. On the palate, subtle peach and orange peels predominate but the finish is crisp and clean. This is going to be your go-to wine for warm summer days.
This is a serious food lover's wine. Torrontés is an ideal wine to pair with Asian and Indian cuisine, coconut curries and Thai spice peanut dishes, due to its sweet floral aromas of rose petals and flavors of white peach and lemon zest. In terms of intensity of food, opt for light colored meats such as poultry, fish and tofu because they won't overwhelm the delicate flavor, aroma and acidity in the wine. Serve chilled.
Tasting Notes: White Peach. Orange Peel. Lemon Zest. Lemon Blossom. Chamomile. Jasmine Flower. Crisp and Clean.