Shrimp Burgers with Chili-Lime Aioli Makes 4 Servings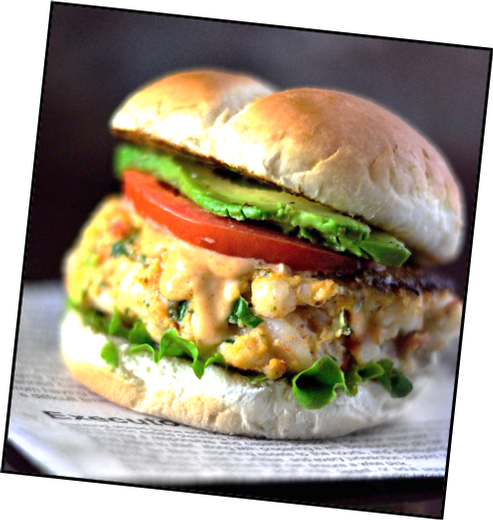 Recipe Date:
May 30, 2019
Measurements:
Imperial (US)
Directions
Ingredients for Shrimp Burgers:
1 Lb. peeled and deveined medium shrimp
1/3 c. gluten-free panko breadcrumbs
1 Tbsp. lemon juice
1⁄2 tsp. kosher salt
1⁄4 tsp. garlic powder
1⁄4 tsp. freshly ground black pepper
2 scallions, white and green parts, thinly sliced
1 large egg, lightly beaten
1⁄4 C. canola oil
4 brioche buns, halved and lightly toasted Chili-Lime Aioli
Avocado slices, for topping
Lettuce leaves, for topping
Tomato slices, for topping
Directions:
Coarsely chop half of the shrimp. Put the remaining shrimp in a food processor and pulse until smooth. Combine both shrimp in a large bowl with the breadcrumbs, lemon juice, salt, garlic powder, pepper, scallions and egg. Mix well. Refrigerate for 10 minutes, and then form into 4 patties. Refrigerate 10 more minutes.
Heat the oil in a large cast-iron skillet over medium-high heat. Cook the burgers, about 3 minutes per side.
To serve, spread the buns with the chili-lime aioli and place the burgers on the buns. Top the burgers with the avocado slices, lettuce leaves and tomato slices. Enjoy!
Pair with a delicious crisp white or Rosé wine, like our Nice Sauvignon Blanc or Nice Rosé!
Recipe: Katie Lee of Food Network