Our Nice Malbec Reserve is a full bodied, fruit-forward expression of the Malbec grape. Rich cherry and plum flavors dominate while fig and cocoa persist on the palate. One sip will leave you wanting more.
Back in 2007, we partnered with acclaimed organic Malbec growers Alberto and Fabiana Cecchin to produce a chef-inspired, foodie-driven Malbec wine from the Cecchins' 80 year old vines. Our working relationship and friendship with Alberto and Fabiana is one of our favorite things about making wine in Argentina. They are just as committed to making wine that is organic, sustainable, and free of additives and fillers as we are. Together we produce a wine that proudly carries our name and our reputation. It is no wonder that our wine has now been rated 92 points, won numerous gold medals, and is featured on over 50 of the top wine lists across the state. 100% organically grown grapes and sustainable farming practices make this wine truly stellar.
Certified Organic by Organización Internacional Agropecuria
Certified Vegan by The European Vegetarian Union
Certified Sustainable by the Packaging Recycling Organization of Europe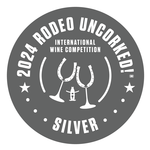 This vitange of our most popular wine won a Silver Medal at the 2024 Rodeo Uncorked! International Wine Competition.